Sequel of the preceding post Cosmogenesis (6) : The Creation in the Renaissance
The Date of the Creation
None of the traditional myths gives a precise date for the Creation. The very idea of putting dates to the history of the world seems to have been foreign to the mentality of the ancients. For them the origin of the universe was simply a notion which helped them to understand the separation of reality into two regions: formless chaos and cosmic order. It was the Jewish/Christian preoccupation with time as a linear process which prompted the question: when was the Creation? From then on the greatest theologians (from Eusebius of Caesarea in the fourth century to James Ussher, Irish prelate and archbishop of Armagh, in the 17th century) and scientists (from Kepler to Newton) would attempt to provide the answer.
For centuries the only clues were to be found in the Bible, which was thought to be able at least to provide an upper limit to the age of the world. From studying the Bible, the vast majority of scholars put the date of the Creation at around 4000 BC, the most common method of calculation being to count the number of generations between Adam and Jesus. St Luke[i] and other commentators list 75 generations, which at approximately 50 years per generation make 4000 BC a plausible date. This reasoning was accepted until the 18th century, even though Ronsard ended his Hymn to the Sky of 1555 with the words: "Your beauty is such that I simply cannot believe / It is but four or five thousand years since your beginning."
More precise estimates gradually appeared. According to the theologian and historian the Venerable Bede in the eighth century and Vincent de Beauvais in the 13th, the Creation took place in the spring.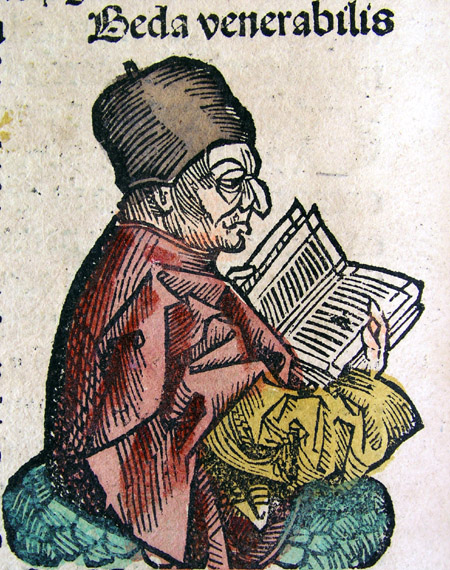 In his historical treatise Annales Veteris Testamenti, a Prima Mundi Origine Deducti (Annals of the Old Testament, Traced Back to the Origin of the World) of 1650, James Ussher attempted to determine precisely the dates of the great biblical events by checking them against historical facts and astronomical phenomena. According to his calculations the first day of the Creation was 23rd October 4004 BC (beginning at midday) and Adam and Eve were expelled from the Garden of Eden on Monday 19th November, Noah's Ark went aground on the summit of Mount Ararat on 5th May 1491 BC, and so on.
Similarly, in 1642, the Vice-Chancellor of Cambridge University, John Lightfoot, an eminent Hebrew scholar, stated that "heaven and earth, centre and circumference, were created all together, in the same instant" and that "man was created by the Trinity on October 23, 4004 BC at nine o'clock in the morning."[ii] Continue reading →